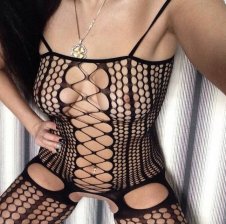 Important details of
flybubu
| | |
| --- | --- |
| Sex | Female |
| Interested In | Males |
| Age | 30 |
| Height | 5'4" - 5'6" [160cm - 170cm] |
| Weight | 120 - 140 lbs [55 - 60 kg] |
| Hair | Brunette |
| Eyes | Blue |
| Ethnicity | White/Caucasian |
| Languages | Russian |
| Pubic Hair | Trimmed |
| Bust | Large |
| Butt | Medium |
Ideal man for me
I pick out some of the things I look in for a guy.
⭐️ Is mature.
⭐️ Is communicative.
⭐️ Is open to all perspectives and is does not have a fixed mindset.
⭐️ Believes in possibilities.
⭐️ Is truthful about himself, to others, etc.
⭐️ Patient and can wait until I am ready.
⭐️ Is knowledgeable.
⭐️ Is kind.
Of course, I don't just look for these traits...
I also look at friends, family, etc. and how they view life.
Sometimes, little details can tell you big things.
My hobbies
⭐️ Poetry
⭐️ Philosophy
⭐️ Fashion (especially handcrafted jewelry)
⭐️ All things geeky - seriously, I'm a huge comic fan and general nerd
⭐️ Psychology
⭐️ Anatomy and health
I love orchids
Orchids symbolize exotic beauty, refinement, thoughtfulness, and mature charm. They're also a symbol of proud and glorious femininity. 
Welcome
We haven't met in person yet, but I know we have in your dreams. You've always had this dream, a longing so sweet yet so sharp that at times, it seems unbearable: You want to see, to be seen, by a woman who is a little different, who possesses a little something extra.
You want to commune with a magical creature like me.
You want it, and yet you fear it. Something has stopped you, has held you back - the danger perhaps, or the stigma. Is it possible to realize this dangerous, exquisite vision of yours?
I am here to lead you down the winding path of pleasure. In the short time that I've lived on this planet, one lesson I've learned is: if we wait until we're ready, we'll be waiting forever.
Another is: there is nothing wrong with pleasure.
I want get to know you, your dreams, your hopes and fears.
I answer your questions. We take our time. We gift each other with dignity, respect, and oh so much delicious, tender admiration.
And step by step, we go on a journey that leaves you feeling lighter, happier, a little more at one with yourself and the world.
So why not reach out? Get in touch.